"That's real coffee, too. It ain't no chicory and dirt." — Ruby Thewes in Cold Mountain.
Chicory is a bushy perennial herb with blue, lavender or white flowers. It grows wild along roadsides and in weedy vacant lots. It's native to Europe and has become naturalized in North America. Common chicory is known as blue sailors, succory, and coffeeweed. The roots are baked, ground, and used as a coffee substitute and additive, especially in the Mediterranean region (where the plant is native), although its use as a coffee additive is also very popular in India, parts of Southeast Asia and the American South, particularly in New Orleans.
In the United States chicory root has long been used as a substitute for coffee in prisons. It also has a special place as a cowboy's drink on the frontier.
I love the "old time ways" of going about things. Makes me feel strong to be able to do something from start to finish, whether it's sew my own dress, build my own house, bake my own bread…. or forage for a coffee substitute.
With my Edible Wild Plants bible in hand, I went chicory gathering this morning.
It was raining and there was sleepy thunder in the distance, and Banjo Boy and I walked through the woods to a field that stretched beneath power lines. We were soaked, but happy, and worked carefully in the mud. We pulled one plant up after the other, clipped the stems with scissors, and deposited the roots in our gathering sack. I did save some flowered stems for a bouquet, here: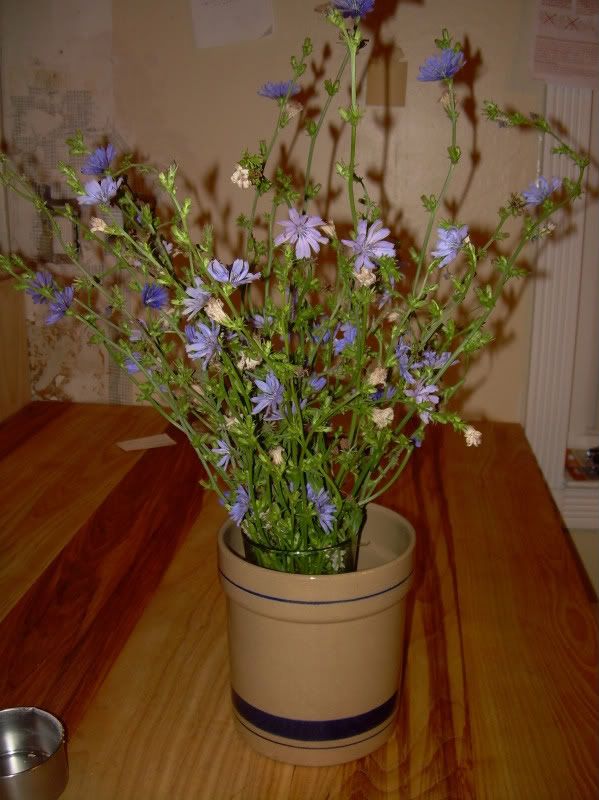 And here are the roots, after they've been washed, scrubbed, and washed again. Apparently they can get as big as a man's fist! But we didn't find any like that. Most were the size of carrots or turnips. Similar texture, too, under the knife.
I chopped them roots up real good like an' put 'em in my pan, and then roasted them at 350* F, stirring ocaisionally until they were all dry and slightly browned! They smelled like chocolate.
I then whirled the roasted roots around in my blender on the "grind" setting until the mixture was of a coffee-ground consistency…..!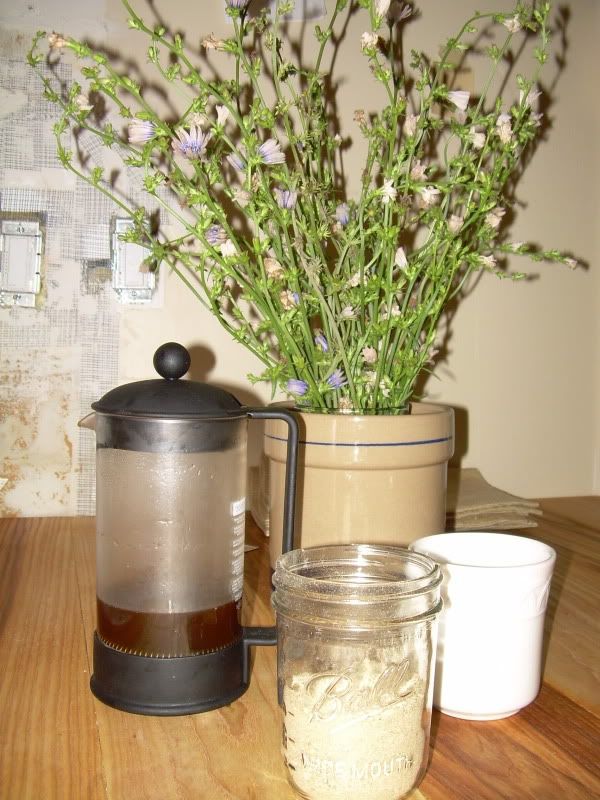 It made about 2/3 a pint of ground chicory. Not too bad. Would definitely do it again. Use as you would coffee, approximately 1 1/2 tsp per cup of water. It's strong and bitter, just like strong black coffee, but it's most excellent with milk and sugar.
Forget real coffee, Ruby. I don't mind the chicory. I'll pass on the dirt, though.