Recooping
November 23, 2009
LeMerle hasn't repeated her crowing song since this weekend… so we're thinking, hoping, praying that she's shut up for good and maybe she just had the hiccups or something. We'll keep an eye on the situation, and if it gets loud… we'll find a nice non-urban homestead for her. But enough about LeMerle. I think it's about time ya'll met Gertrude and Florence, our new ladies!
We rescued them from an inner city coop. At first we weren't sure if we'd be able to integrate them into the rest of our flock (chickens can be very mean to one another when you try to mix flocks) but things seem to be going smoothly and all the girls are getting along, more or less.
Flo is the one with the bigger earlobes and Gertie is in the foreground.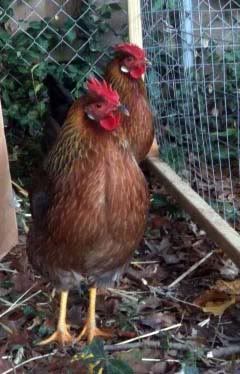 They are Brown Leghorns, which are good layers and big, hearty birds. They are rather jumpy, though, and much more skittish than our other hens…. but I hope to fix that by handling them more. They are also very good fliers, so we have to be good about keeping their wings clipped. The below picture is of me holding Flo's wing after we clipped her flight feathers.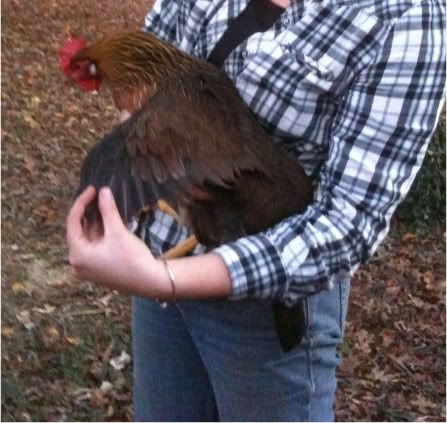 The original coop that we built was meant for 4 chickens, not 6, so when Gertie and Flo came on the scene we had to do some re-cooping.
Previously, the nesting boxes were kept within the coop itself, taking up precious square footage. Our solution for adding interior space was to create "bump out" nesting boxes on either side of the coop that could be accessed by the hens from within. Check it out:

My original idea was to make the "bump outs" look like flower boxes! But that was too hard for me to engineer by myself, and this was a project that I had to tackle sans Banjo Boy…. so the additions have simple roofs instead.
My dear friend Huldah, the Mistress of Power Tools, helped me for the day, and we managed to add the addition, cut the window, and .. yes… even do cute little shutters!
We also made a white picket fence to surround the chicken run. We repurposed wooden pallets that we bought for, at most, $1 a piece. Here are some sketches of the process:
The walls/fences surrounding the run needed to be taller than the actual pickets, so we topped the fence with iron garden edging that kinda looks like this:
Real pictures of the entire shebang coming soon, if I can ever find daylight again. I HATE that it gets dark at 4:30. Is it Spring yet?!