The Girl With The Plow
April 22, 2010
________________________________________________
The plough (American spelling: plow; both pronounced /ˈplaʊ/) is a tool used in farming for initial cultivation of soil in preparation for sowing seed or planting. It has been a basic instrument for most of recorded history, and represents one of the major advances in agriculture. The primary purpose of ploughing is to turn over the upper layer of the soil, bringing fresh nutrients to the surface, while burying weeds and the remains of previous crops, allowing them to break down. It also aerates the soil, and allows it to hold moisture better. In modern use, a ploughed field is typically left to dry out, and is then harrowed before planting.
Click here to read more about what Wikipedia has to say on the history and technology of plows. Or ploughs. Or both.
________________________________________________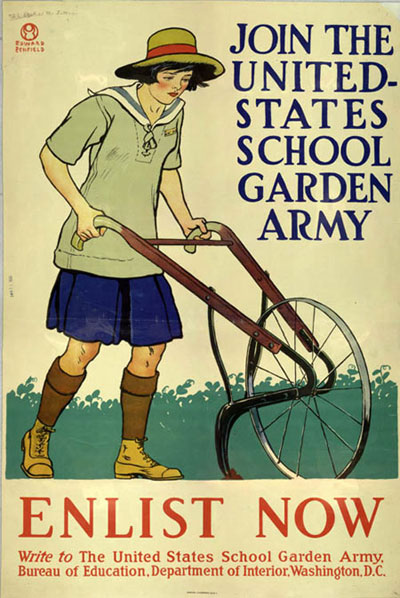 The image of the girl and plow shown above is one of the posters done by the famous Edward Penfield (1866-1925) to promote the agricultural policies during WWI. You can read more about such wartime programs (and posters) HERE at Good Potato's incredible online exhibit "Beans are Bullets and Of Course I Can."
One individual took note of the poster I chose to promote the exhibit and sent me pictures of the hand plow that he owns.  His wife found it at an antique shop amidst old Victorian bed frames and other nick knacks and rescued it for $39. Here it is:
I know it looks a bit rusty in these pictures, but don't let that fool you. Apparently they have used it to plow their entire backyard so that they could plant native grass and clover. They have also used it to plow strips of land at their organic orchard, Texotic Fruits! The clay soil on his farm gums up tillers unless the soil is very dry, and even if then the earth is sometimes so compacted that tillers have a hard time penetrating the soil.  He claims that he doesn't have any of these issues  with the hand plow and that it cuts right through it very easily!
I recently bought a second (or third) hand plow off of Craigslist.  Sadly, it's not a wheel plow, hand plow, or even a goat plow.
It's a Troybilt Pony….. a gas powered tiller, just like what Mamabear and Papasnap use at Maypop and what I grew up with. I figured that their tiller has lasted for most of my lifetime and is still running strong…. so the brand (which isn't made any more) is a good one to stick with. And it was a very good deal. : ) Not quite as good as when I traded strawberry jam for a bicycle… but almost as good.
I'm very happy with my Pony. It cranks right up and does a good job turning the earth. It's been great these past few weeks as I prepare our never before tilled Yarden (yard-garden). But I can't help feeling a little bit jealous of what they've got going on down at Texotic Fruits, and what it must feel like to push that wheel plow.